A Milestone Celebration – Our Screening at CIRCA's Queer History Month
We're still riding the wave of excitement from our recent participation in CIRCA's inaugural Queer History Month, a groundbreaking event that we were incredibly proud to be a part of. Baby, You Are My Religion was featured among an inspiring lineup of 70 queer events, each one a unique tribute to the 70-year legacy of ONE Institute's trailblazing journey in advocating for LGBTQ+ rights and recognition.
This wasn't just a screening; it was a communal affirmation of the stories, struggles, and triumphs of LGBTQ+ individuals and communities throughout the decades. Sharing space and narratives with diverse voices allowed us not just to look back at where we've come from but also to recognize the ongoing journey toward acceptance and equality. It was a powerful reminder that our documentary doesn't exist in isolation — it's part of a rich, interwoven tapestry of experiences that define the queer community's past, present, and future.
What made the CIRCA screening particularly memorable was the sense of collective history. ONE Institute has been at the forefront of the fight for LGBTQ+ rights for 70 years, and each event in the Queer History Month was a reflection of these decades of defiance, resilience, and community. Baby, You Are My Religion contributes to this historical dialogue, highlighting the sacred spaces within pre-Stonewall lesbian bars where community and identity were forged against all odds.
While our screening is over, the conversations it sparked continue to resonate. We're invigorated by the feedback and the shared stories that emerged from this event, and we're more committed than ever to ensuring that these narratives remain alive and central in the discourse surrounding LGBTQ+ history.
We extend our heartfelt gratitude to everyone who joined us at CIRCA, to the organizers who made this essential event possible, and to the audiences whose open hearts and minds embrace the stories we're so passionate about sharing. Here's to many more years of remembering, celebrating, and pushing forward — together.
Keep an eye on this space for more updates on Baby, You Are My Religion and our ongoing journey in bringing these crucial pieces of queer history to light.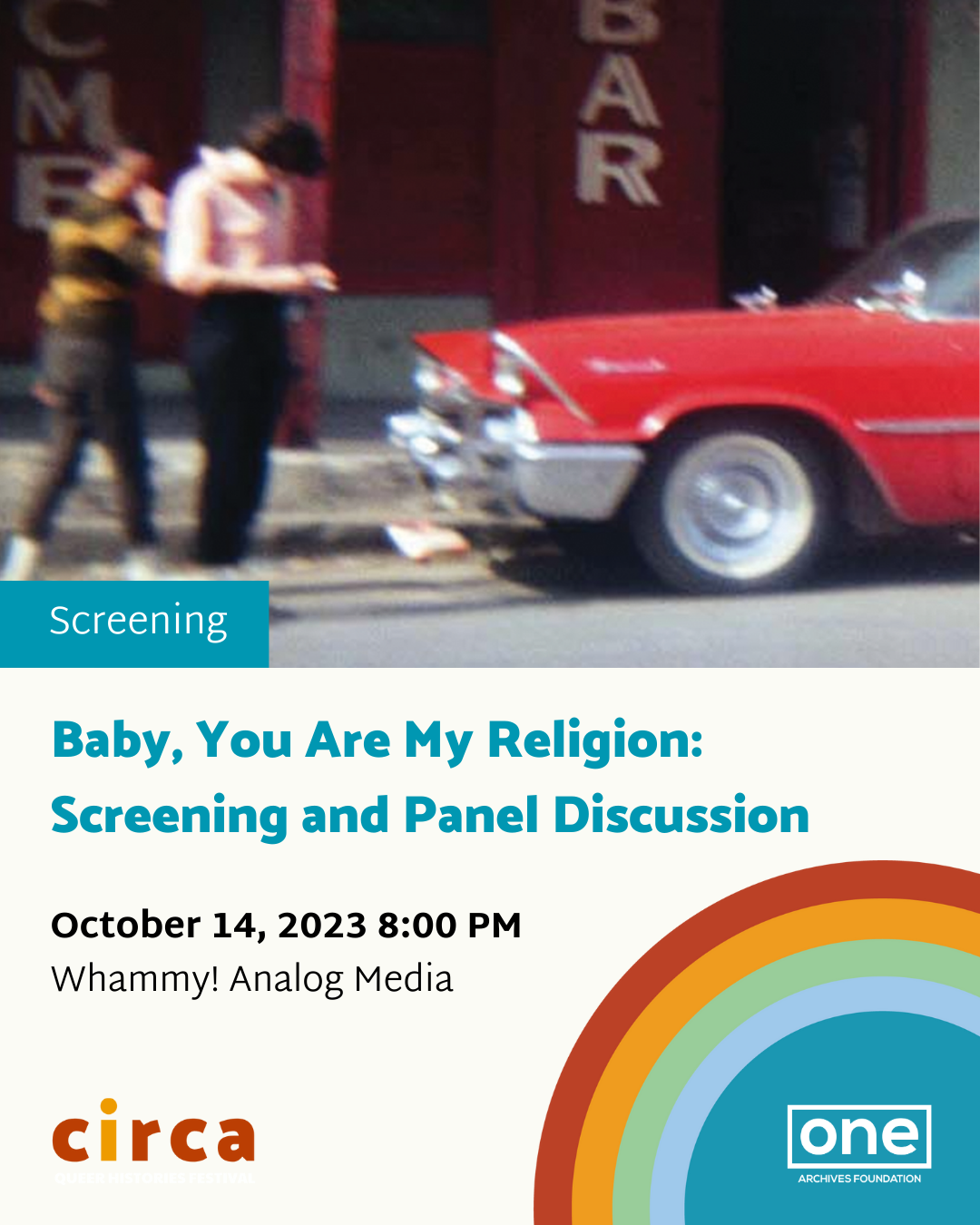 Celebrating seven decades of service to the LGBTQ+ community, ONE Archives Foundation presents Circa, the first and only LGBTQ+ histories festival in the United States. Kicking off at the start of LGBTQ+ History Month, October 2023, the month-long programming series will showcase the trailblazing histories and vibrant cultural contributions of LGBTQ+ communities through the lens of present-day challenges and triumphs. Spanning the arts, humanities, politics, and culture, Circa will feature queer and trans thinkers and doers leading the movement for LGBTQ+ liberation.